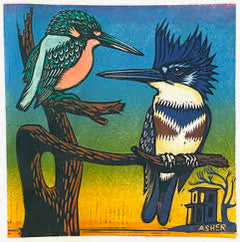 Asher Briant
Asher Briant is a printmaker, illustrator, and children's book author who resides on Maine's Monhegan Island during the summer months. We are honored to feature his strikingly vivid, very limited edition linocut prints of stunning birds, including owls, kingfishers, herons and goldfinches. 
Acid- free mats are ready for framing.
Briant's stellar academic credentials include the prestigious Saint Martin's School of Art in London where he was strongly influenced by the renowned Japanese woodcut artist, Hiroshige. British by birth, Briant has lived in the U.S. since the early 90's where he became an editorial illustrator with clients that included the New Yorker and the NY Times. 
See Collection